Where your child's healthcare needs are just a lollipop away!
Meet Our Doctor
Dr. Kelli M. Cocke is a wife and mother of 4 beautiful children. She graduated with honors and her Bachelor of Science from Louisiana State University in 2000. She then graduated with her Medical Doctorate from Louisiana State University Health Science Centers in 2005 where she also completed her General Pediatrics residency in 2008. She worked in New Iberia as a Pediatrician for five years before opening her private office, Parkway Pediatrics, in Broussard, Louisiana.
Welcome to Parkway Pediatrics, LLC, where we pride ourselves on meeting all the needs of our patients and providing a home-like atmosphere.
WE ARE NOW ACCEPTING NEW PATIENTS WITH THE FOLLOWING MEDICAID INSURANCES FOR THE SUMMER OF 2018: Amerihealth, Healthyblue, Aetna Better Health, United Healthcare Comminuty Plan. (Unfortnately due to circumstances out of our hands, we will NOT be taking any New Patients with Louisiana Healthcare Connections.)
Effective August 31, 2018 we will no longer accept Louisiana Healthcare Connections with Medicaid. If you would like to continue to see Dr. Cocke you will need to change your bayou health plan during open enrollment. We will accept all of the other plans. Please contact the office if you have any questions.
Due to the high volume of patients we strongly recommend calling at 8:00 AM to schedule a same day appointment as our schedule can fill up quickly. If you are unable to get an appoinment we will be more then happy to let you speak to a nurse or leave a message for Dr. Cocke. We strive to take care of all our patients needs and will do our very best to make sure we do. We appreciate all of our patients and parents. Call us today to set up your appointment and let our family take care of yours! .
Ask us how to join our Patient Portal where you can access appointment dates, office visit notes and more! If you are already signed up you can log in here: http://id.patientfusion.com/
LIKE US ON FACEBOOK! https://www.facebook.com/ParkwayPediatricsLlc/
Meet Our Staff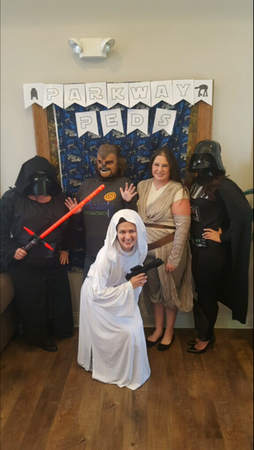 OUR PARKWAY PEDIATRICS STAFF
Meet Our Staff
Ashley:
Ashley is our office manager and a full-time nurse. She takes care of all the referrals, all office needs, making sure your child is scheduled to see any specialist you need. She is a great mom to three awesome kids and can help you with almost any questions about caring for your sick or fussy child at home.
Cicily:
Cicily is a full-time nurse. She is always ready to help you and your child get through "the hard parts" of doctor visits and feel better soon. She strives to give shots with a smile and hopes to see every child smile back when it's all done. Cicily is another smart mommy to her amazing daughter and she understands how to help parents with questions get the answers they need.
Lacie:
Lacie is our medical assistant. She will be getting all the weights, heights and updated info on your little ones but most importantly, she will get you and your child all set and ready to see the doctor. Lacie is a wonderful mom to her two beautiful daughters.
Heather:
Heather is our receptionist. She greets you with her smiling face, schedules your appointments, coordinates with billing department, handles medical records, and so much more. She is also an outstanding mom to a fantastic son.